Why a sponge and foam?
Why do we clean with a sponge and foam?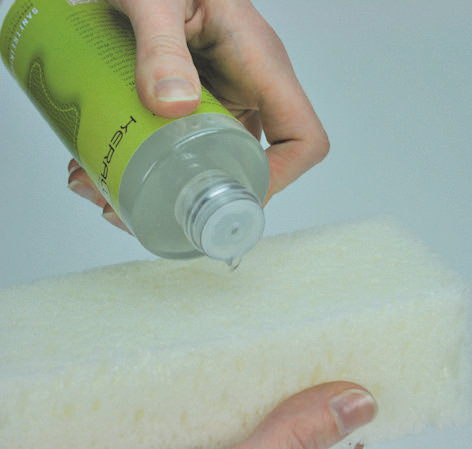 All LCK® cleaners have one thing in common. They are made to foam abundantly. And with good reason. You can't simply wipe off clinging dust particles, dirt, grease and stains from jeans or other clothing.
The foam, created by squeezing the sponge after distributing the cleaner on it, is meant to dissolve the dirt. The foam, and the dirt, are then easily removed from the leather using a soft damp cloth. If needed this procedure can be repeated until the leather is completely clean.
These are the basic rules which apply to every Keralux® cleaner: Always treat an entire section from seam to seam. Don't let the foam dry completely. Never scrub on one specific area, this will remain visible afterwards. When in doubt, feel free to ask us for advise.
We always recommend to clean using abundant foam. The foam is meant to do the cleaning for you, so let it do its job. By maintaining your leather regularly, you can prolong the lifespan of your furniture. The Keralux® quick care cloths are no replacement for your regular maintenance. They are however convenient for easily cleaning the leather in between your regular maintenance cleaning.
Simultaneously cleaning and care, too good to be true.
When using 3 in 1 or 4 in 1 formulas you are basically moving dirt from one corner to another. The dirt isn't removed but smeared across the surface. This can lead to grease or dust clogging and thereby suffocating the leather. Some cleaning-agents may even contain a high alcohol percentage, which can cause leather to dehydrate faster. Keralux® products on the other hand are water based and tested thoroughly for their safe use on leather.
Our products give leather exactly what it needs:
cleaning without dehydrating
valuable care to maintain the natural grip
effective protection against dirt, liquids and grease
protection against UV
If you have any questions regarding the frequency of maintenance, stains or if you are in need of product recommendations, feel free to contact us.