General information
What is it?
A Keralux® colour repair set (CRS) is a colour set that we create specially for you. With a Keralux® CRS you can refresh the original colour of your leather.
The set comes with a customized colour lotion, a powerful cleaner and the set includes all the accessories you need.
When do you use it?
With a CRS you can camouflage small superficial scratches, light damages and crackles. Think of:
Damage due to normal use, such as wear marks on the piping.
Scrapes, for example caused by jeans.
Scratches, for example by nails.
Chafing, as long as it's superficial.
Discolouration, for example due to direct contact with sunlight.
Note: no damage, stain or discolouration is the same as others. If in doubt, send a photo to: info@lcknederland.nl.
Our experts are happy to help you and tell you whether a CRS is a solution for your problem.

Step by step / treatment plan
The question is why do you want to restore the colour of your leather? Do you want to turn your sofa back to as good as new? Or just refresh the colour it a bit?
Our experts are happy to help you. In many cases you get a better result with doing a little more work rather than 'only' colouring.
Send us a clear photo of your problem, so that our experts can help you.
You will then receive our advice, a step-by-step plan including our recommended maintenance products by mail.
Our advice is always free. You then decide which products you do / do not want to order in our webshop.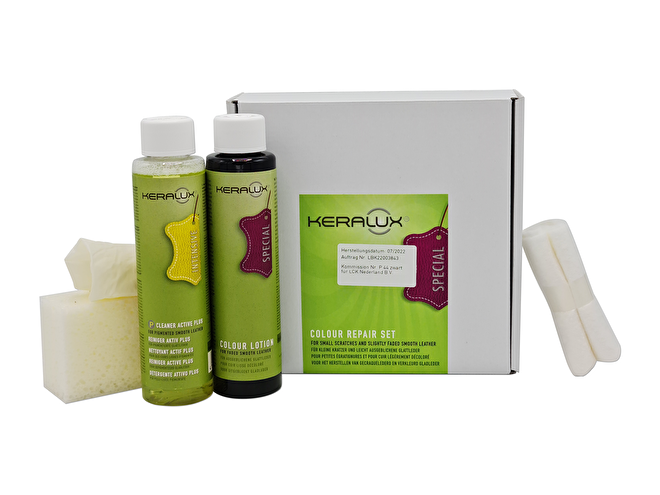 Different colour sets
We offer various Keralux® colour repair sets. This is because not everyone has the purchase receipt at his / her disposal.
This receipt contains important information, such as: the manufacturer, name of the leather and colour(code).

But which set is best for me? It depends:
I do have a receipt
Do you still have the purchase receipt, or do you know the leather type / colour at the top of your head?
Then look at the logo of your manufacturer at the bottom of the homepage. Choose the type of leather and select the correct Keralux® color repair set.
Piece of cake.
I don't have a receipt (2nd hand furniture / receipt is lost)
No purchase receipt? That can happen, especially when you take over someone elses furniture.
In this case there are a few of options you can choose from. Take a look below and choose the best method for you:
Keralux® colour repair set | from sample
The best option is to send us a small sample. And no, you don't have to 'perform a surgery' on your sofa to do this.
A small 1-4 centimeter (1-2 inch) strip of leather (about half of your little finger) is enough! Send the sample to our PO Box stating your contact details. We will contact you automatically once we receive your sample.
Tip: At the bottom of a piece of furniture, or behind a closure / zipper, the leather often overlaps a few centimeters. Here you can usually cut a small strip away.
Keralux® colour repair set | standard colour*
Can't get a sample? Then a standard colour might be right for you. Take a look at our standard colours and compare the colours with the colour of your leather. Does one of the colours correspond for approximately 95% with your leather? Then this could be a good (and simple!) solution.
Keralux® colour repair set | after RAL-number*
Didn't find a matching colour? Then give us an official RAL-number, just like at the paint shop. To do this, go to the local paint / DIY store and ask if they lend a "classic" RAL-fan. With this fan you can determine the correct colour fairly accurately.
*Important:
We differentiate between pigmented (P), aniline (A) and nubuck (N) dyes. That is why we also offer three types of standard colour sets. For a standard colour or RAL colour, please indicate what kind of leather it is for. Do you need help with this? Send us a photo by email, our experts will be happy to take a look with you.
---
Questions?
Curious or do you have a question? Don't hesitate to contact us!
Take a quick look at the contact page or click here for more information.