Impregnate furniture fabric for industrial purposes
Do you want to effectively protect your customer's beautiful sofa and chairs against stains? You can! With Puratex® you can impregnate and protect furniture yourself within minutes.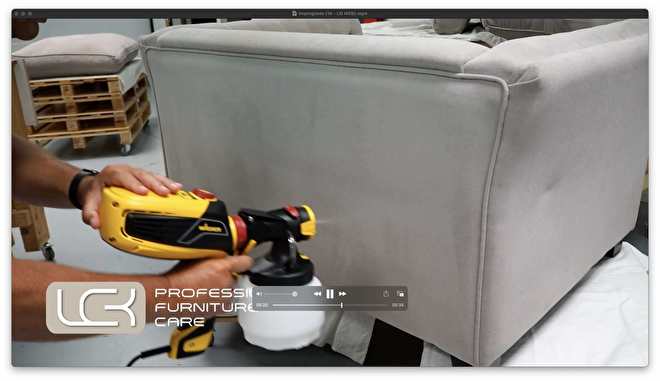 Why protect fabric furniture?
That is a good question. The answer is very simple: 'What is beautiful can, or "could" in fact, remain beautiful'. You are not always in control of everything. And no matter how careful you are, things can go wrong. Often not even by yourself, but by the cat, or the neighbor, or your three-year-old child. Prevent a lot of hassle and protect the new sofa a day before delivery with Puratex® impregnation!
What about wool?
Not necessary! You do not need extra protection for woolen fabrics. There is also a number of fabrics that can not be wet cleaned and therefore may not be impregnated with Puratex®. How do i know? We have already tested most fabrics for you, so you can immediately see whether you can impregnate a fabric or not. You can find all our maintenance advises on our website under the logo of the furniture manufacturer or the fabric supplier. Simple as that!
How does it work?
Puratex® impregnation protects the fabric against the penetration of liquids and dirt. In practice, this means that you have more time to react appropriately. Puratex® is easy to apply with the Wagner impregnating sprayer supplied by us. Without propellants, it can be applied efficiently and economically. You can protect a large corner sofa in about 2 minutes.
Most environmentally friendly impregnation!
Can we be proud for a minute here? Yes we can, because Puratex® was recently awarded an OEKO-TEX® certificate! But what does this mean?
Puratex® is not harmful to humans or animals!
Puratex® is not harmful to the environment!
Puratex® is odorless and colourless!
Puratex® is not manufactured through heavy chemical processes!
Puratex® does not affect the fabric. So you can use it safely!
Action 2021
When purchasing your first 25 liters of Puratex® impregnation, you will receive the original Wagner equipment for free. We will set up the device completely ready for use and of course we will demonstrate how it works. This action is restricted for the Dutch/Belgium market only.
To order?
Take a quick look at the contact page or click here for more information.
Are you unsure about impregnation? Or do you have a question about your fabric?
Then please contact us! We will gladly help you further.